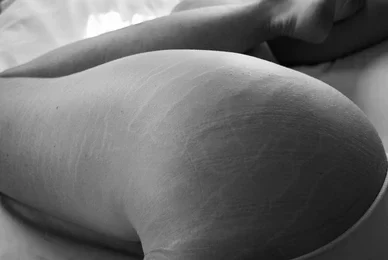 Source Unknown
The bite marks fade after a day. The bruises from the bite marks of my Bull are almost gone. I miss them every time they disappear. Fleeting evidence of the time I spent getting primally fucked into oblivion. I love rough sex. I am a Primal. I am a kinkster. I love impact play, both Topping and bottoming. I love the marks made during a scene. When I choose where these marks of sexual exploration appear, it makes me feel in control. After Topping I love seeing the evidence of our spanking or caning session and remembering the power and control I felt in that moment. Seeing those marks makes me think of the joy I felt gifting my sub with a desired experience. After I've bottomed, I love pressing the marks and being transported to those moments of euphoric bliss as the floggers impacted my skin. I love bottoming in Knife play and running my fingers along the scores and scratches make the feelings I felt during a scene linger in my memories long after the marks fade. All of these marks show that my boundaries are honored even when I loosen the reins of self-control and slip into the Primal space I so often crave.
The marks we have on our bodies tell the story of our lives. Many women come into this lifestyle with a low body image. I certainly did. I have marks on my body that I had no control over. I've accepted that I would never have the kind of body that would land me on the cover of a magazine. While I was proud of the body that brought our children into the world, I ceased looking at my body sexually. Sexual pleasure no longer occupied my thoughts, it was about keeping up with my kids. I never worried about how I looked in a bathing suit, because I was there to swim with my family. My body was functional and perfectly adequate for that. I was 40 years old, overweight, and developed crow's feet. Stretch-marks were a byproduct from my pregnancies along with the weight gain. When my husband spoke to me about hotwifing and cuckolding, I thought what kind of men would want to have sex with an out of shape, 30 pound overweight, forty-something married mother? And why would I find those men appealing!? Frankly, the idea was bewildering to me. My body-image was part of why I resisted the idea of moving beyond fantasy into reality for so long. That resistance is partially rooted in fear of rejection. When we fear rejection because of a low self-body image, we fear that someone will reject our stories and reinforce our own negative views.
What I, along with many women, discover is that quite often the opposite is true. The men in this lifestyle don't reject us but more often desire us in part because of our marks, our stories, our bodies and all the ways that we are beautiful, sexual women. This just hits differently than when our husbands express sexual desire for us. We know our husbands will always be able to remember us as the younger, less storied women they fell in love with. It can be easy to dismiss the notion that they see and desire us as the women we are now as opposed to remembering the women that originally caught their attention. That was my perspective. These new men never met me before I was married and had a family. They didn't know me in my twenties. They met me now, marks and all. Yet they still desire me for the woman I am. When I accept their desire for me it helps me also see the truth of my husband's desire too. His desire is all the more powerful because he knows the story of my marks and my life.
When I stepped into my sexual empowerment, it also meant changing the way I viewed my body. It required embracing self-love. Some of my marks can't be seen. Like the nerve damage from childbirth that led me to find new paths to pleasure. I was forced to relearn my body and how to find my pleasure. It also meant learning how to love all the ways my body can be pleasured and also accepting how my body can be pleasurable to others. Sexual empowerment means owning every mark on my body for the beautiful way it communicates my story of who I am and loving who that is. I love the marks I create through my sexual exploration as fleeting as they often are. The lifestyle and kink has helped me reframe the way I look at my body and feel about that image. When I feel down on myself, I can look at the areas I still feel self-conscious about and remember the time when they were covered with marks of my sexual pleasure and exploration. I can remember the hands touching, knives scraping or the mouths biting, licking and kissing me.
See Also
I've been listening to Brandi Carlile's song, "The Story." The way the song is written, it seems to be from the perspective of a woman to her lover or soul mate. But when I hear it, I often think of it as a song from a woman's body to her own soul and mind. Viewing it under that lens, it is a beautiful song of self-acceptance, body positivity, and self-love. Being in the lifestyle and being a kinkster, helps remind me that everyone's story is amazing and that we are all marking the moments of our time on this earth.